Ground Tacos with Pico De Gallo
Prep and Cook Time: 1 hour   |   Serves: 4
Prep and Cook Time: 1 hour
Serves: 4

Lighten up taco night but keep all the flavors you love. Lightlife® Plant-Based Ground is seasoned here with chili, cumin, garlic and a pinch of cinnamon. Wrap up simply in warm corn tortillas and a quick homemade pico de gallo or go big and add all your favorite toppings, spicy hot peppers, cheddar style shreds, pickled jalapeños and dairy-free sour cream.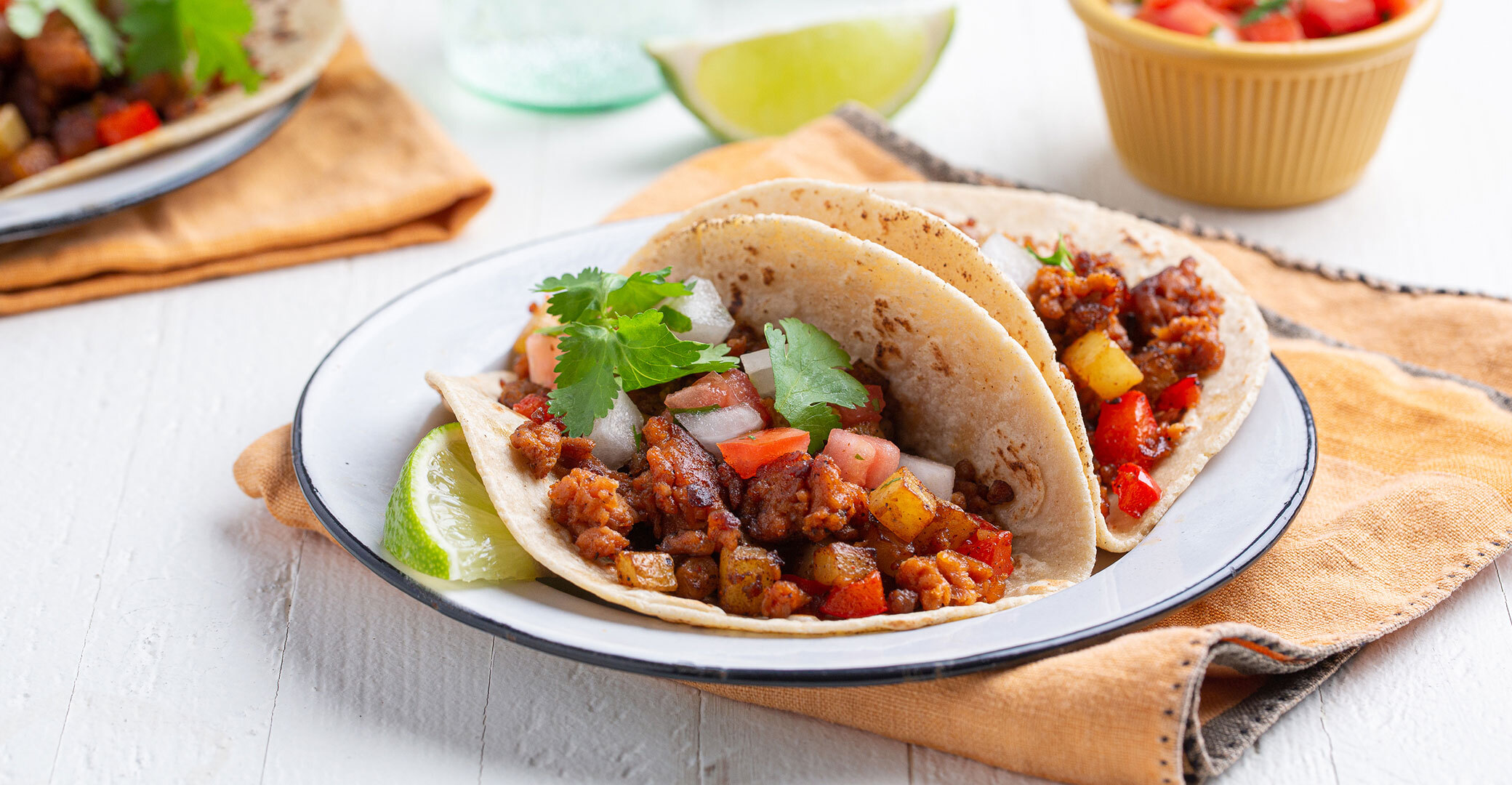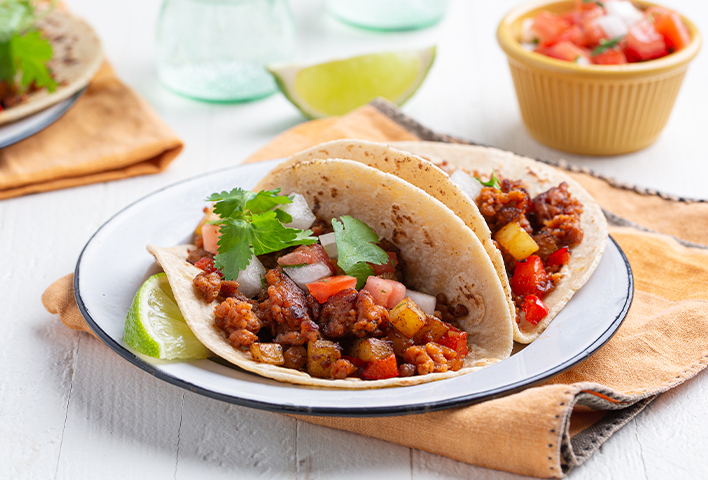 Taco Filling
12 oz. pkg. Lightlife® Plant-Based Ground
1 Tbsp. vegetable oil
1 clove garlic, minced
1/2 cup sweet white onion, finely diced
1/2 red pepper, seeded and diced
1 small Yukon Gold potato, peeled and diced
2 tsp. chili powder
3/4 tsp. ground cumin
1/8 tsp. ground cinnamon
1/2 tsp salt
1/4 tsp. freshly ground black pepper
1/2 cup. tomato passata
Pico De Gallo (Makes 2 cups)
1½ cups ripe tomatoes, diced (about 2 or 3)
1/2 cup sweet white onion, finely chopped
1/2 jalapeño pepper, seeded and minced
1/4 cup freshly chopped cilantro, leaves and stems
2 tsp. freshly-squeezed lime juice
1/2 tsp. salt
8-6" soft corn or wheat tortillas, warmed1/2 cup fresh cilantro leaves1 lime, cut into 8 wedges
For the pico de gallo, add the diced tomatoes, onion, jalapeño and cilantro to a medium sized serving bowl. Stir in the lime juice and salt and adjust to taste. May be covered and refrigerated overnight.
To prepare the taco filling, heat the vegetable oil in a large skillet over medium heat. Add the garlic, onion, red pepper and potato and sauté, stirring occasionally for 3 or 4 minutes until softened.
Add the Lightlife® Plant-Based Ground, break it up with a wooden spoon and cook for about 5 or 6 minutes. Add the spices–chili, cumin, cinnamon, salt and pepper, stirring to combine. Add the tomato passata and simmer gently for 6 or 7 minutes until potato is tender.
To assemble each portion, place 2 warm tortillas on a plate and top with a heaping 1/4 cup of seasoned ground. Top with spoonful's of pico de gallo and some cilantro leaves. Squeeze the limes over top and fold up to enjoy.
Made with Lightlife®
Plant-Based Ground