Southwest Burger with Guacamole and Ruby Slaw
Prep and Cook Time: 1 hour   |   Serves: 2
Prep and Cook Time: 1 hour
Serves: 2

A hearty burger with fresh guacamole, cilantro, ruby slaw and grilled tomato on a toasted brioche bun. Try adding pickled jalapenos and a Jack cheese-style slice for added southwestern flavors. Great served with sweet potato fries or tortilla chips.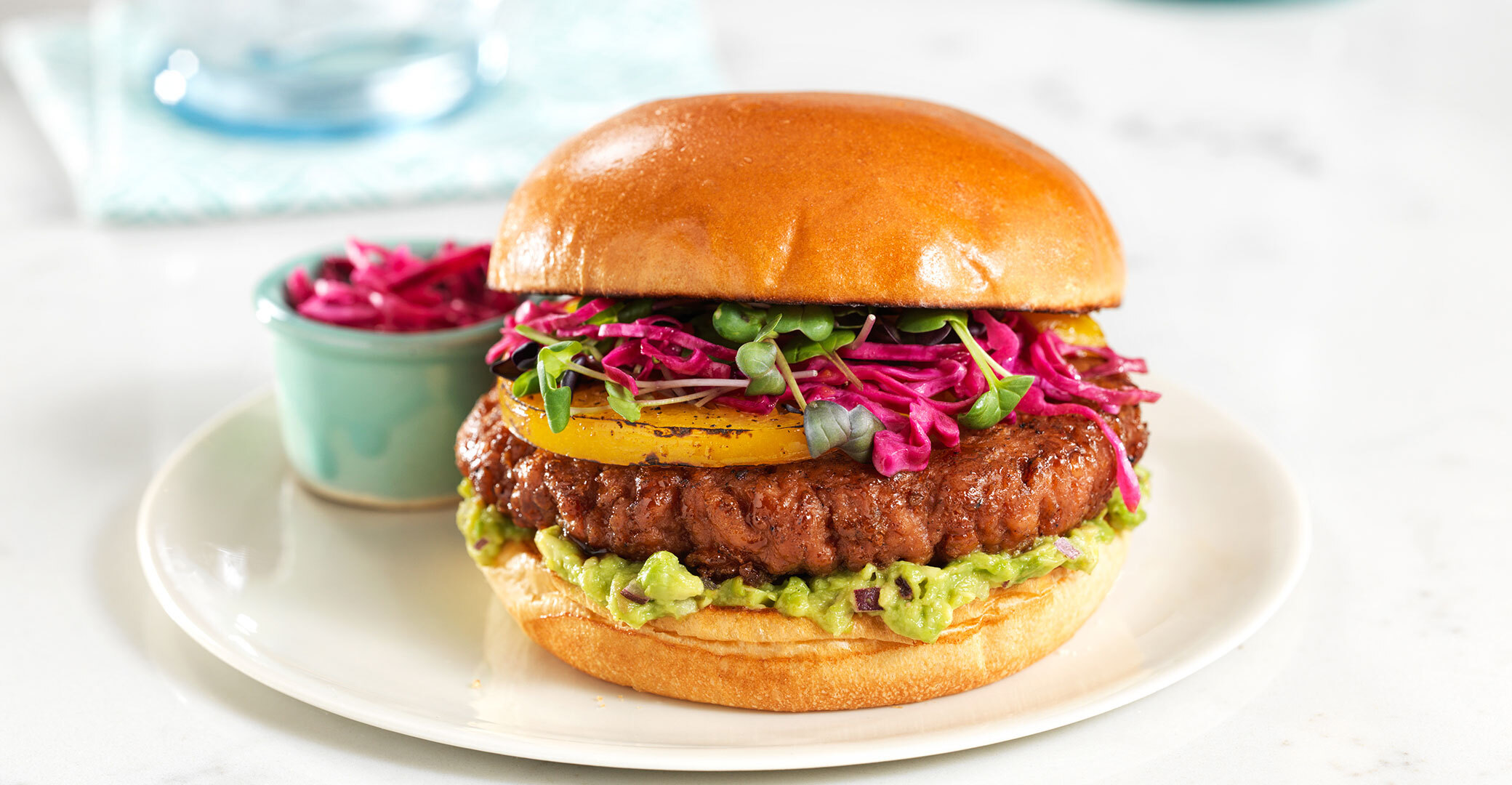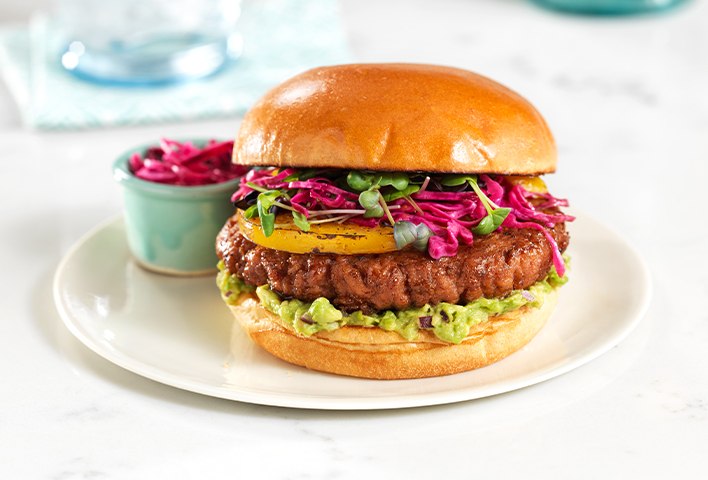 1 firm, yellow tomato, cut into 4 thick slices
2 brioche burger buns
1/2 cup pea shoots
Guacamole
1 ripe avocado
2 Tbsp. red onion, finely minced
½ clove garlic, minced
2 tsp. freshly squeezed lime juice
1/4 tsp. salt
Pinch cayenne pepper
2 Tbsp. fresh cilantro, chopped
Ruby Slaw
2 cups red cabbage, very thinly sliced
1/4 cup red onions, very thinly sliced
2 Tbsp. apple cider vinegar
1 Tbsp. olive oil
1 tsp. honey
1/2 tsp. ground cumin
1/4 tsp. salt
For the guacamole, cut the avocado in half and remove the pit. Using a spoon, scoop out the avocado into a bowl and mash lightly with a fork. Add the red onion, garlic, lime, salt, cayenne and cilantro, stirring to combine. Set aside, covered with plastic wrap, until ready to serve.
For the ruby slaw, toss together the cabbage and red onions in a bowl with the apple cider vinegar, olive oil, honey, cumin, and salt. Let sit, occasionally stirring until slightly softened, about 30 minutes.
To prepare the Lightlife® Burgers from the refrigerator, season lightly with salt and pepper. Fire up the grill to medium heat. Cook the burgers for 4 to 5 minutes per side until they are evenly brown with a minimum internal temperature of 165ºF. (To cook from frozen, add 1-2 minutes of cooking time per side).
Place the 4 tomato slices, and the burger buns cut side down to the grill and cook on one side only watching carefully until grill marks appear, about 2 minutes.
To assemble the burgers, spread the bottom of each toasted bun with about 2 tablespoons of guacamole. Arrange a burger patty on top and layer each with 2 slices of grilled tomato, 1/4 cup of ruby slaw and the pea shoots. Place the toasted bun on top and serve with the extra slaw and guacamole on the side with tortilla chips if desired.
Made with Lightlife®
Plant-Based Burger