Cooking Time: 13 min   |   Serves: 2   |   Recipe Credit: Love and Lemons
Cooking Time: 13 min
Serves:2
Recipe Credit: Love and Lemons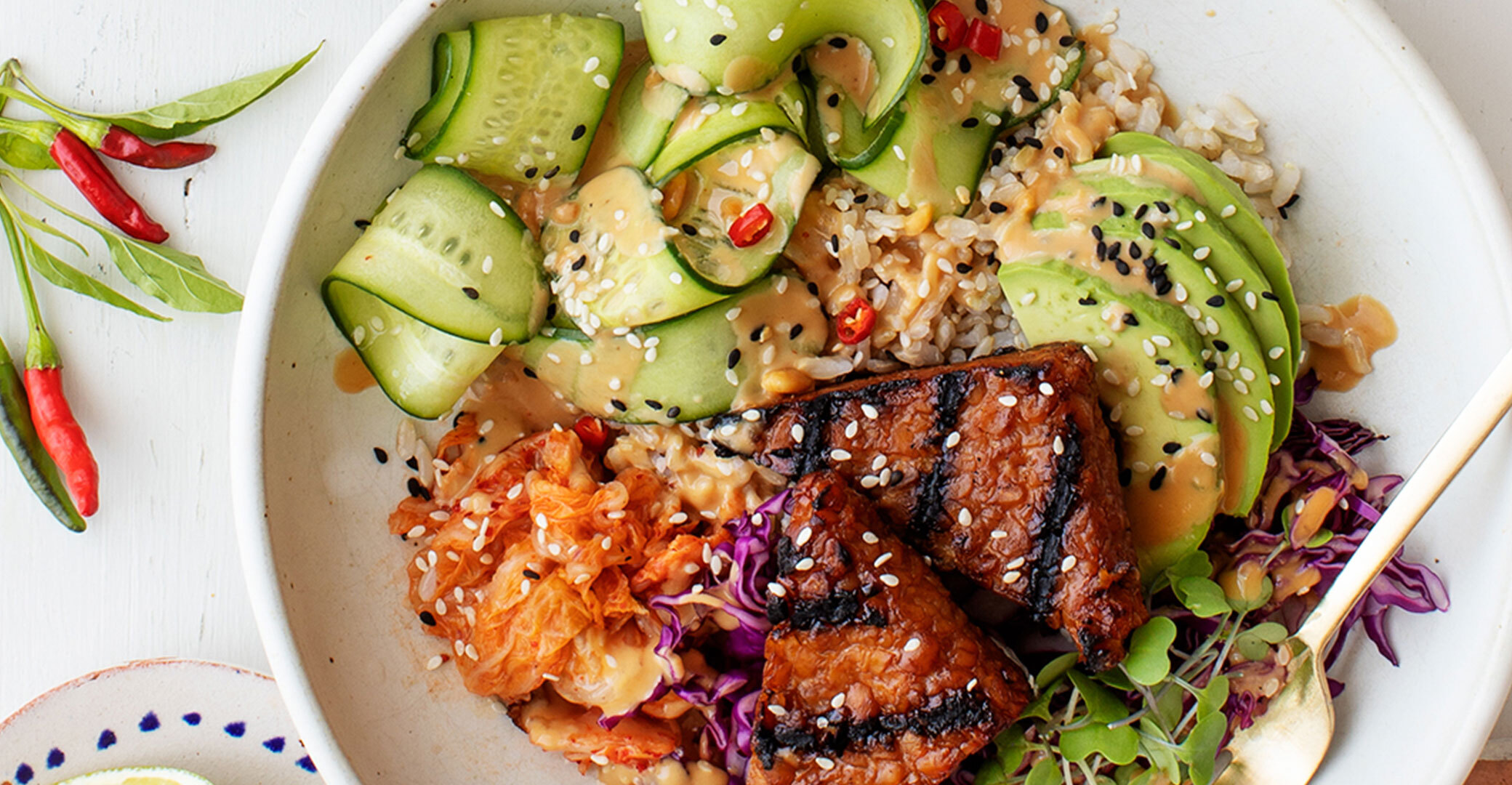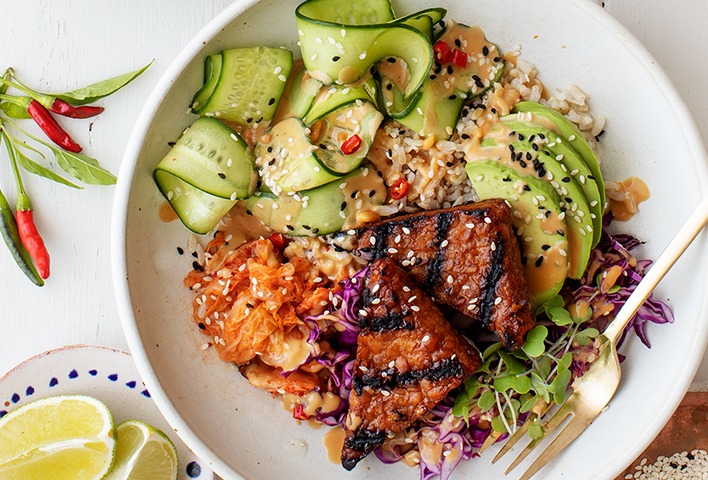 1/4 cup tamari
2 Tbsp. rice vinegar
2 Tbsp. maple syrup
1 Tbsp. olive oil + more for the grill
1 tsp. sriracha
Freshly ground black pepper
1 cup cooked brown rice
Kimchi
Veggies (cucumber, cabbage, sprouts)
Avocado slices
Peanut sauce
Sesame seeds
Diced Thai chiles, optional
Lime slices, for serving
Peanut sauce
2 Tbsp. peanut butter
2 Tbsp. lime juice
1 Tbsp. tamari
1/2 tsp. maple syrup
1/4 tsp. sriracha
1 to 2 Tbsp. water
Cut the tempeh into triangles, place in a steamer basket, and set over a pot with 1 inch of water. Bring the water to a simmer, cover, and let steam for 10 minutes. This helps the tempeh become tender and ready to soak up more flavor from the marinade.
In a small bowl, whisk together the tamari, vinegar, maple syrup, olive oil, sriracha, and several grinds of pepper. Place the tempeh in a shallow dish and pour the marinade on top to coat. Marinate for at least 30 minutes.
Preheat a grill to medium. Spray the grill and grill the tempeh 7 to 9 minutes on the first side. Remove from grill, dip it back into the marinade to coat, then return it to the grill and grill the second side for 4 to 5 minutes, or until deep char marks form.
Assemble bowls with rice, kimchi, veggies, avocado slices, and drizzle with peanut sauce. Top with sesame seeds and Thai chiles, if using. Serve with lime slices on the side.
Made with Lightlife®
Original Tempeh