Breakfast Hash with Roasted Peppers and Chili Mayo
Cooking Time: 1 hour   |   Serves: 4-6
Cooking Time: 1 hour
Serves: 4-6

This breakfast hash is very versatile. Great for a big brunch. For a little extra it can be topped with a sunny side egg or sautéed spinach or kale. The chili mayo has a little kick and can be spiced up or down depending on how hot you like it.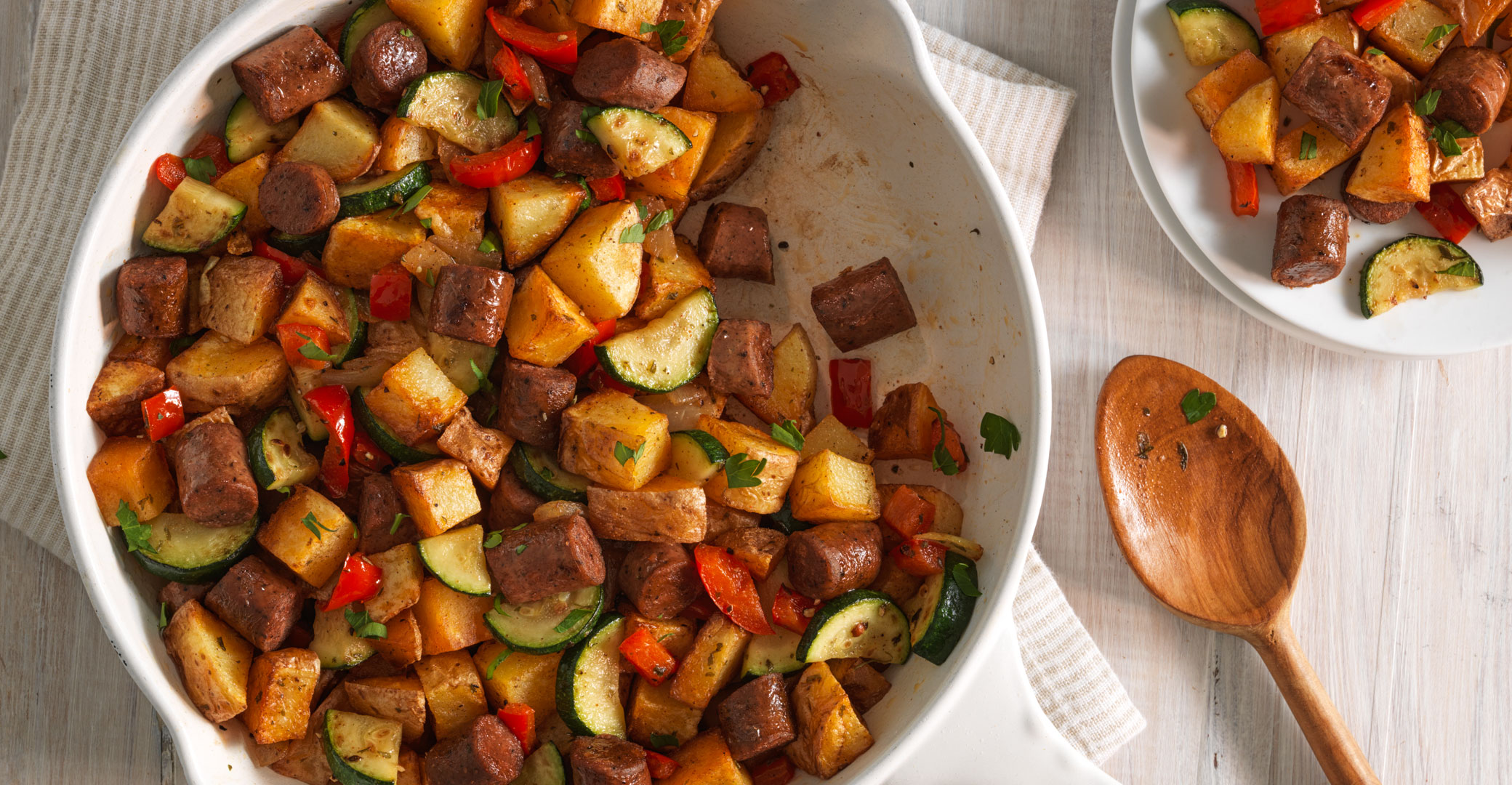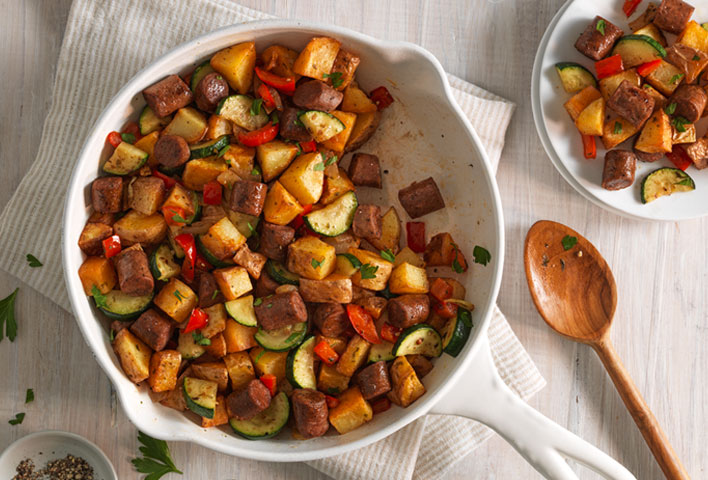 7.5 oz. pkg. Lightlife® Plant-Based Breakfast Links
1/4 cup olive oil
2 cloves garlic, minced
1 sprig fresh rosemary, tender leaves roughly chopped
1 tsp. lemon zest
1 tsp. salt
½ tsp. freshly ground black pepper
3 large Yukon Gold potatoes, peeled and chopped into 1" chunks
1/2 large sweet onion, diced ½" pieces
1 large zucchini, quartered lengthwise and then cut into ½" slices
1 large red pepper, cored, stemmed and cut into ½" chunks
2 Tbsp. Italian parsley, roughly chopped
Chili mayo
1/3 cup egg-free mayonnaise
2 Tbsp . buffalo hot sauce
Preheat the oven to 400°F. Place a large heavy-duty baking sheet into the oven to preheat.
In a large bowl, stir together the olive oil, garlic, rosemary, lemon zest, salt and pepper. Toss with the cubed Yukon Gold potatoes and onions.
Remove the preheated baking sheet from the oven and carefully scatter the potatoes and onion directly onto the baking sheet spaced evenly apart. The heat from the baking sheet will ensure crispy potatoes and help them to not stick. Place on the centre rack of the oven and roast for 27 to 30 minutes, stirring once with a wooden spoon half way through.
When the potatoes are tender and beginning to crisp and brown, pull the sheet pan out and top the potatoes with the zucchini and red pepper stirring once or twice to combine. Continue roasting for another 20 to 22 minutes until zucchini and peppers are tender.
While the vegetables are roasting prepare the chili mayo by stirring together the egg-free mayo and buffalo hot sauce in a small serving bowl.
To cook the Lightlife breakfast links, spray a large skillet with non-stick cooking spray and heat over medium heat. Add the breakfast links and cook for 2 to 3 minutes per side, turning occasionally until evenly browned for about 5 or 6 minutes. Remove the links to a cutting board and cut each into 4 pieces.
Made with Lightlife®
Plant-Based Breakfast Links