Tempeh Stuffed Acorn Squash
Cooking Time: 40 min   |   Serves: 4   |   Recipe Credit: Love and Lemons
Cooking Time: 40 min
Serves:4
Recipe Credit: Love and Lemons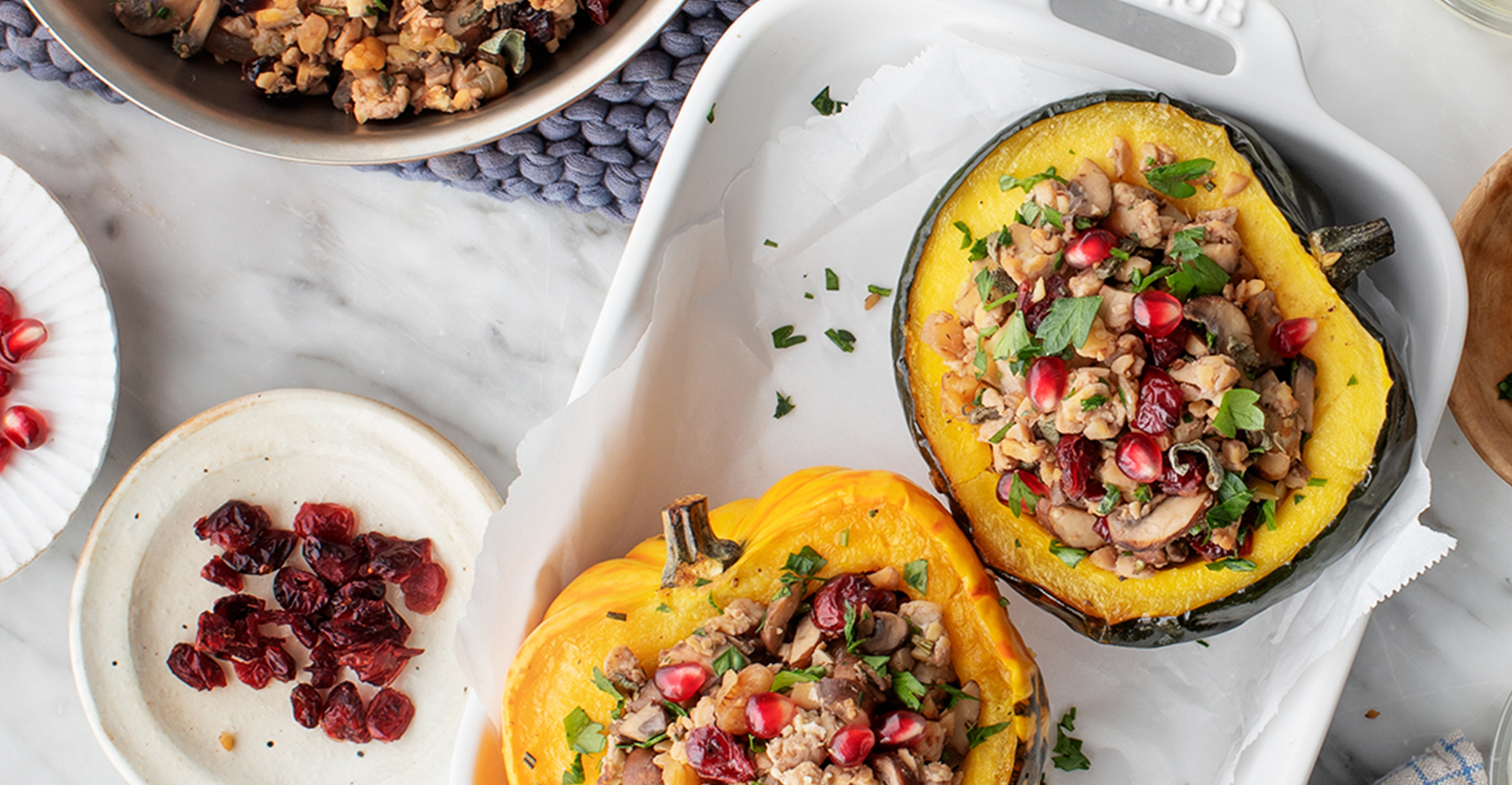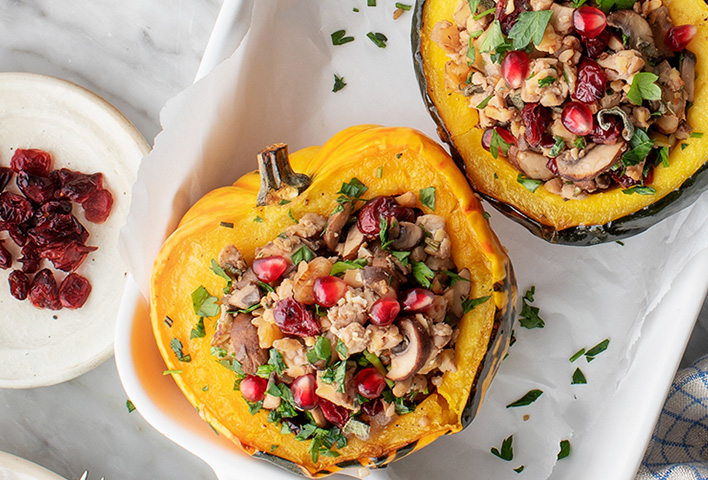 2 acorn squash, halved
1 Tbsp. olive oil, more for drizzling
1/2 yellow onion, chopped
8 ounces cremini mushrooms, diced
3 garlic cloves, minced
1/3 cup coarsely chopped walnuts
1 Tbsp. tamari
1 Tbsp. apple cider vinegar
1/2 Tbsp. chopped rosemary
1/4 cup chopped sage
1/3 cup dried cranberries
Parsley and pomegranate arils
Sea salt and pepper
Preheat the oven to 425°F and line a baking sheet with parchment paper. Scoop and discard seeds from the squash. Drizzle the squash halves with olive oil and pinches of salt and pepper and roast cut-side up for 40 minutes, or until tender.
Cut the tempeh into 1/2-inch cubes, place in a steamer basket, and set over a pot filled with 1-inch of water. Bring the water to a simmer, cover, and let steam for 10 minutes. Remove, drain any excess water, and use your hands to crumble the tempeh.
Heat the olive oil in a large skillet. Add the onion,1/2 teaspoon salt, and several grinds of black pepper and cook 5 minutes. Add the mushrooms and cook, stirring, until soft, about 8 minutes. Stir in the crumbled tempeh, garlic, walnuts, tamari, apple cider vinegar, rosemary, and sage and cook 2 to 3 minutes more, adding 1/4 cup water as the pan gets dry. Stir in the cranberries and season to taste.
Scoop into the acorn squash halves and garnish with parsley and pomegranates.
Made with Lightlife®
Original Tempeh